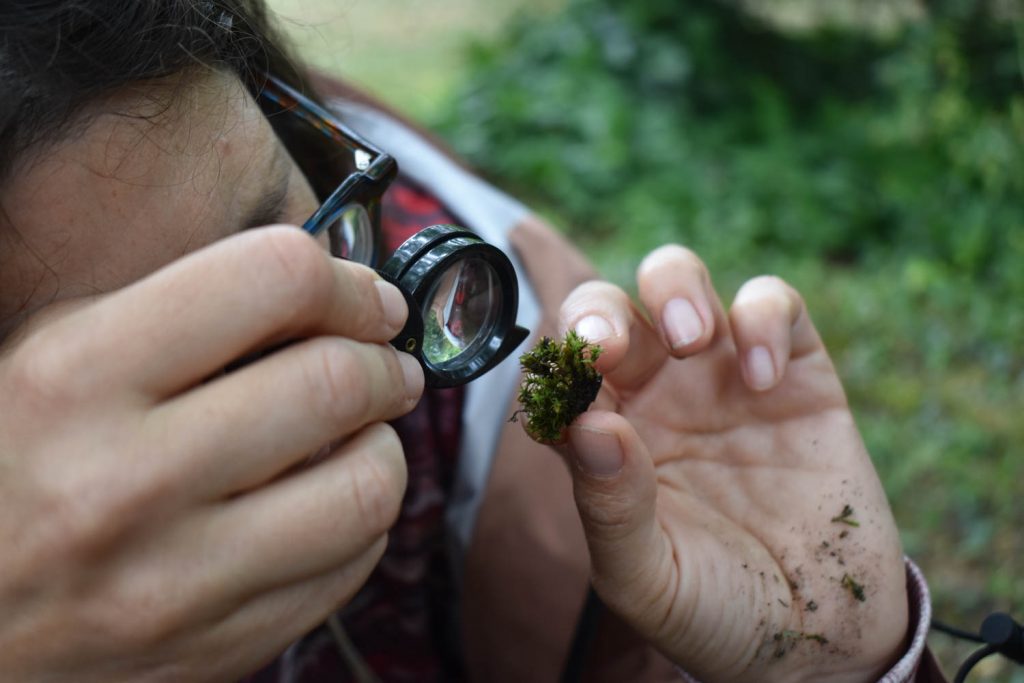 The MicrocosMoss workshop is an immersive journey into the world of moss. It is a joint project by an interdisciplinary team of artists Eva-Fiore Kovacovsky and Lucy Powell together with biologist Jackie Hess and Susanne Jaschko, prozessagenten.
The workshop emerged from our shared fascination for moss and our individual approaches that are informed by our different professional backgrounds and practices. Inspired by Robin Wall Kimmerer's in equal parts poetic and scientific writing about mosses, we were keen to learn more about and from these amphibious and ubiquitous plants.
Excited by the possibilities of diving collectively into a vast microcosmos (that comprises some 22,000 species that have been evolving for 450 million years) we designed a workshop that adapts to different environments, collecting and generating more knowledge with each iteration. The workshop is an invitation to spend time with the mosses, becoming intimate with them and their habitats and delving deep into their ways of being.

The workshop features exercises and explorations that focus on different aspects of moss such as its resilience and adaptability, its diminutive size, sexuality and dispersal, its affinity with water and environmental interactions. It is structured in three parts:an exploration into the site-specific habitat of mosses through sensorial immersion, mapping, and drawing; delving into the morphology and biology of mosses through microscopy; and a somatic meditation. Readings from Kimmerer's book Gathering Moss weave a narrative thread through the three-hour period.
The MicrocosMoss workshop is a learning exercise for the participants as well as for the us. A digital zine is planned to collect the workshops' findings in each location.
Jacky Hess is a Berlin-based evolutionary biologist and enthusiast of all things small and ephemeral. She has researched the origins of symbioses of fungi and plants, evolutionary ecology of wood decomposer fungi and now works in synthetic biology.

Eva-Fiore Kovacovsky is an artist based in Berlin. She grew up in nature with the forest and its inhabitants as her kin. Using cultural, scientific and personal stories she works with plant specimens experimenting with analogue photography.

Lucy Powell is a UK artist based in Berlin whose research-based practice is part of a wider ontological inquiry into more-than-human nature and how to be in the world today. Choosing to work outside the gallery space, she creates walks, workshops, maps, audio works, participatory performances and books.
The workshop MicrocosMoss was conceived for the MATTER OF FLUX festival organised by Art Laboratory Berlin and was realised in this context.

Please contact us, if you would like to host a MicrocosMoss workshop at your venue or event.
Workshops so far:
MicrocosMoss at MATTER OF FLUX festival, Berlin on June 16, 2023, organised by Art Laboratory Berlin.
MicrocosMoss at Climate Care festival, Floating University, Berlin on September 22, 2023