This year's MutaMorphosis Conference in Prague was entitled Tribute to Uncertainty and offered a wide programme of sessions, but browsing the program one could not ignore the attention that the organisers had paid to what is going on in the field of art + science and in particular Bio Art. I had been invited to speak about Challenges of Participation in a session that was similarly called The Limits and Challenges of Collaboration and that was curated by Manuela Naveau from Ars Electronica. Together with me on the panel were Galia Offri and her partner Mushon Zer-Aviv as well as Mirko Tobias Schaefer, Assistant Professor for New Media & Digital Culture Utrecht University. Mirko is also the author of Bastard Culture! How User Participation Transforms Cultural Production at Amsterdam University Press.

In Prague, Mirko gave an analysis of participatory culture limiting user agency, focussing on social media. In his talk he revealed the discrepancy between social media's official narrative of being participatory systems and their true nature of limiting participation and massively channelling user activities. He spoke about social media's ephemeral design elements: Like, View, Endorse, Favourite, ReTweet, RePin, and how they lower the threshold to become an 'active' user. On-line activity is minimised to clicking a button, but gets maximum attention. Social media also initiate the economics of rewards. Mirko went on discussing elements of corporate control limiting user activities such as moderation, automated, distributed (through 'flag' and 'report') and human content review. The final part of his presentation centred on the expansion of the public sphere through social media and the problem of corporations shaping policies for this new public space.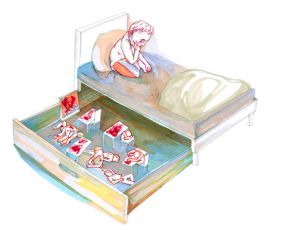 Galia and Mushon presented their project Wikipedia Illustrated. This project entails the illustration of 26 Wikipedia articles, a blog to share the process, a book and a number of workshops. Through these activities the authors hope to draft a new path for a visual free culture. And indeed, Wikipedia looks like it can benefit from such artistic activism. Wikipedia pages don't allow much visual information and while the textual information usually goes through various versions and updates, graphics don't permit this kind of collaborative process. So it's individual authors who insert images which are accepted by the community or dismissed. But the 'simple' act of creating and adding images that communicate the content or theme of a Wikipedia article in an illustrative and metaphorical way opens up a discussion of how much visual poetry Wikipedia can take before it looses its reputation as a factual medium and if contributors can change its rules. This project shows quite plainly and painfully how little room Wikipedia and similar collaborative platforms offer for reformation.